Note: this is a long overdue catch up post.
After saying goodbye to Torben/Judy & Andreas/Lizabeth, Deb and I set off on our own for a few days. Or so we thought…
Winter Harbor
Our first stop was a favorite from previous trips to Maine. Winter Harbor is a long narrow inlet that is always quiet and beautiful. In the past, we've gathered mussels off the rocks and made incredible meals. We also had our dog "Ita" swooped upon by a hungry eagle at the water's edge. This time around we had a nice quiet night to recover from the revelry of the previous couple days.
Burnt Coat Harbor
Burnt Coat Harbor is a very busy working harbor full of lobster boats coming and going at all hours and offloading at the three local docks – Swans Island Fishermans Co-op, the Swans Island Boatshop, and the Burnt Coat Harbor Town Dock.
Beautiful homes and buildings line the pine forests of the island, which is most famous for its old lighthouse. But it was the history of the island, and particularly that of James Swan that really caught my interest.
Swan's Island history is closely associated with its namesake, James Swan who, in 1784, purchased a number of islands off Mount Desert Island known as the Burnt Coat group.
James Swan led an incredible life. He took part in the Boston Tea Party and was a participant in the battle of Bunker Hill. In his 55 years, he made and lost huge fortunes, lived in Paris during the French Revolution, and spent 22 years in a french debtor's prison out of principal even though he had the funds to pay his accuser! Click the link above to learn more if interested.
Southwest Harbor
Just when you thought you had run into all of your friends in Maine….
Southwest Harbor, Maine, is located just west of the southern entrance to Somes Sound on Mount Desert Island. Over 3 million people a year come to Mount Desert Island to visit Acadia National Park.
Most tourists to the island head directly to Bar Harbor on the northeast coast, which is home to several large hotels and is a popular stop for cruise ships. Tremont and Southwest Harbor are the principal towns on the west side of MDI. Bar Harbor is one of those "one and done" locations for us. Most cruisers, ourselves included, choose to stay here during their visit to Acadia National Park for its small town atmosphere, and far more relaxed pace.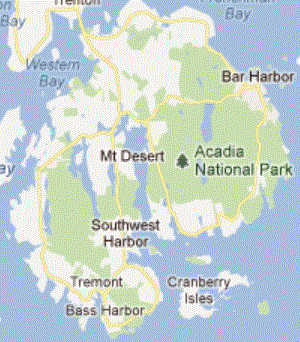 Deb and I arrived in the early afternoon and carefully made our way through a "big boat" regatta sailing a course within the harbor.
As we worked our way past the main harbor and towards the back of the anchorage area we both heard a whistle from shore. We looked in the general direction of the sound and there was someone standing on the back deck of a home waving out to the harbor. There were several other boats moving around so I assumed that we were not the target of this noise and waving. Never assume. Debbie doesn't. Deb said, "I think that guy is waving at us!". "No way" was my response. And yet, the waving persisted and of course, Deb waved back, and then there was more waving and jumping around and suddenly we remembered that this was the area that our friend Ted Madara had a family Summer home.
This was the location of one of our fondest memories from our first trip to Maine (10 years ago!) when Ted and his parents and extended family had insisted that we use the family mooring and invited us to a huge family dinner.
The crazy waving man on the deck was indeed our friend Ted Marara and just a minute later, he was heading our way in a dinghy, once again insisting that we grab a mooring and come in for a drink prior to dinner.
Hurray, we have found more friends!!!
We were only able to stay in Southwest Harbor for two days as of course, we had plans to meet some other friends in Buck Harbor. (more on that later). But, we did get to join Ted, his wife Patty, and son Teddy that first evening for a catch-up drink prior to dinner. It was a huge night for them as the next morning they were driving their Teddy to his first day away at boarding school.
Speaking of Teddy, wow Ted/Patty what a good job you have done. He is one very impressive young man. Polite, engaging, helpful, etc. He left a very strong and impressive impression on both of us.